Hey SFs! Hope to see lots of you here tonight for the moderated chat! (Thanks Webmaster Sam!)
UPDATE ABOUT THE SITE: Still no word on when normal commenting can resume. Although Sam accidentally left the comments on for the Zita post and we had no problems! Next week we might experiment with leaving a SFTZ open for a while…
UPDATE ABOUT THE BOOKS: Lots going on with books!
First, Tony DiTerlizzi's WONDLA series is now complete! So if you haven't even started it, you can and then read right on through to the end! Or if you've been waiting for the conclusion as I have, you can finally read all about it!
The new Zita the Spacegirl is coming out, too! (see other post)
Next week, STONEWALL HINKLEMAN comes out in Paperback! Hooray! I wrote this book with my best friend, Michael Hemphill.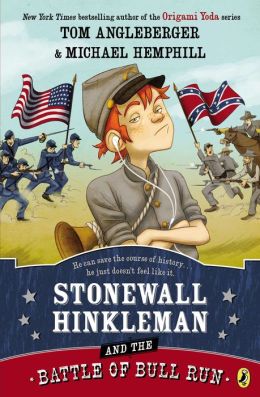 It's a CIVIL WAR TIME TRAVEL EXTRAVAGANZA! Think of it this way: What if HARVEY had to save the world? (OK, he's not as bad as Harvey, but….) It's SO MUCH CHEAPER than the hardcover! WOOHOO!!!
Then on the 20th: QWIKPICK!!!! This is a book most of you probably haven't read. So, this is going to be a beautiful new edition AND it's now a series! Qwikpick 2 and 3 are coming! QP1 is FOUNTAIN OF POOP! QP2 will be THE RAT WITH THE HUMAN FACE! QP3 is top secret…
And in just a few weeks, the audiobook ANGELINA BUGLEBRAIN will be out, too!
But for now…. let's CHAT!
AND Sam has posted 20 new pieces of SuperFolderStookiness! PLEASE PLEASE PLEASE comment on these while you have the chance!